We now advise all Australians DO NOT travel overseas at this time. If you are already overseas and wish to return to Australia, do so as soon as possible by commercial means. View details.
Hong Kong and Macau have imposed entry restrictions and compulsory quarantine measures on travellers from overseas. For latest update please check the official COVID-19 websites of Hong Kong and Macau.
The Australian Prime Minister has announced a travel ban to apply from 9pm Sydney time, Friday 20 March on all non-Australian citizens and non-permanent residents from entering Australia. All Australians – citizens, permanent residents and immediate family will still be able to return to Australia.
All travellers arriving in Australia will be required to undertake a mandatory 14-day quarantine at designated facilities (for example, a hotel), in their port of arrival.​ Travel restrictions are subject to change. Some exemptions are in place. Please check back regularly.
For more information on travel restrictions, visit the website of the Department of Home Affairs.

Latest News
We are calling for young artists to join our "My Australian Christmas Card Competition 2020". This year's theme is "In this together". Enter via school and submit your artwork before 18 November 2020.

Today I announce the appointment of Ms Elizabeth Ward as Australia's next Consul-General in Hong Kong.

We, the Foreign Ministers of Australia, Canada, New Zealand, and the United Kingdom , and the United States Secretary of State, are gravely concerned by the Hong Kong government's unjust disqualification of candidates and disproportionate postponement of Legislative Council elections.

The National Security Law erodes the democratic principles that have underpinned Hong Kong's society and the One Country, Two Systems framework. It constitutes a fundamental change of circumstances in respect to our Extradition Agreement with Hong Kong. As a result, we have today taken steps to suspend our Extradition Agreement.

Australia will introduce new measures for students, temporary graduates and skilled workers from Hong Kong who want to live, work and study in Australia.

Australia joins many international partners in expressing our deep concern about Beijing's imposition of a National Security Law on Hong Kong.

I am pleased to announce the appointment of two new members of the Advisory Board of the National Foundation for Australia-China Relations. Ms Pru Bennett will join the Advisory Board as Chair and Mr Stan Grant will join as a Member.

From today, Cathay Pacific will commence a weekly freight flight from Adelaide to Hong Kong, with each flight expected to carry around 30 tonnes of premium South Australian produce including abalone, tuna, eggs and beef.

We are deeply concerned at proposals for introducing legislation related to national security in Hong Kong. (More...)

The Australian Government has today added a new weekly flight to Hong Kong under its International Freight Assistance Mechanism. Starting today Qantas will fly from Brisbane, via Cairns, carrying 45 tonnes of seafood from Tropical North Queensland for the Hong Kong market. 

Consuls-Generals of Australia, New Zealand and Turkey have commemorated Anzac Day by paying private respects at the Sai Wan War Cemetery, to those who have served in defence of their countries.

The Australian Government has launched the International Freight Assistance Mechanism (IAFM) in response to freight transport challenges caused by the outbreak of COVID-19.

A continuing network of flights to four key international hubs will be established — London, Los Angeles, Hong Kong and Auckland — for the next four weeks to help Australians get home.

COVID-19 is affecting hundreds of thousands of Australians who are travelling abroad, disrupting their movement and in some cases making it difficult for them to return to Australia. We acknowledge that this is an anxious time for many Australians and their loved ones.

Australia is closing its borders to all non-citizens and non-residents. The entry ban takes effect from 9pm AEDT Friday, 20 March 2020, with exemptions only for Australian citizens, permanent residents and their immediate family, including spouses, legal guardians and dependants.

In view of measures related to the Novel Coronavirus taken by the Hong Kong government to restrict travel and border crossings, we will postpone the Consular visit to Macau, this Friday 6 March. If you have an appointment, you will be contacted. If you require urgent passport renewal, please email [email protected] for advice.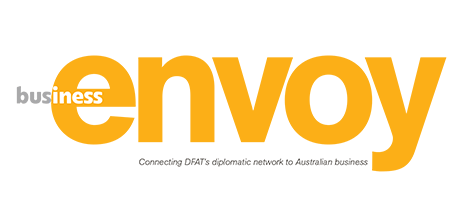 Business Envoy is a bi-monthly online publication which shares market insights from Australia's global diplomatic network. The publication draws on reporting and advice from Australian embassies and high commissions in key trade and investment markets as well as analysis on international issues from the Department of Foreign Affairs and Trade (DFAT) in Canberra.